In the footsteps of Napoleon in Ajaccio

Explore Ajaccio, the imperial city, where Napoleon was born.
This remarkable character will take you though the streets of the city, where you will discover secrets and locations dedicated to Napoleon.
There are several buildings and symbols devoted to the emperor and his family in the city of Aiacciu: the house where he was born in 1769 (which is now the National Bonaparte House Museum), the imperial chapel that houses the tombs of his parents, brothers and sisters, and the 3 large statues in his likeness in different locations across the city. One such chapel, in the place known as Casone, houses the famous Napoleon cave, which, as legend has it, Napoleon often visited in order to meditate on his fate while reading Plutarch's Parallel Lives.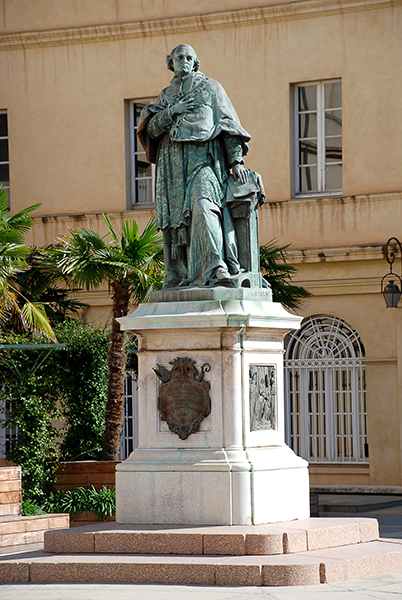 You can then check out the eponymous museum devoted to Cardinal Joseph Fesch, uncle of Napoleon and another famous figure from Ajaccio. He was a great art lover and collector, and acquired a considerable number of works during the First Empire. His collection of over 16,000 paintings was the largest ever constituted! Joseph Fesch wanted to bequeath all of these works to the city of Ajaccio in order to form a great centre of learning; his heir however opposed this idea, and only 1,500 works were donated to the city. The Palais Fesch Fine Arts Museum, built in 1860, houses the cardinal's collection. As you make your way through the great rooms of the museum, you can admire its Italian paintings, portraits of the Bonaparte family and modern works from the temporary exhibition concealed among the other works.